---
Paul M Papakura won the BEST CLUB EQUAL at the 2013 National Championships. Well done guys!
For the latest news and Photos, members please join our Facebook Group.
Newspaper Article on Niketa Wells
Master McPhail and Mrs Debbie Hart attended a Protect Self Defence Trainer Accreditation course on 17th March 2012. They are now qualified to teach the Protect Basic Concepts and Drills at normal club sessions.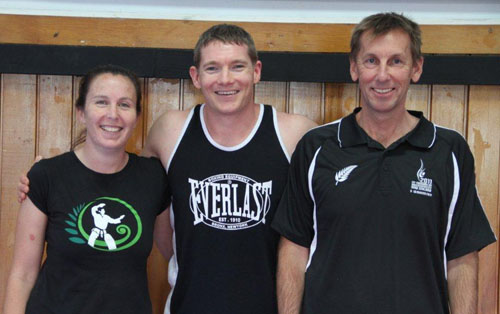 ---
Congratulations to our three new black belts: Dave Parker, Vienna Parker and Keith Speck.
Join Paul M Papakura on Facebook
Senior Training (1st gup and above) Mondays 8.00 - 8.30 pm


Tina-Marie Tuaineiti 7.5.97 - 17.11.10

Club Tournament Results
Patterns

Blue+: Winston Tupou
5th Gup: Robyn Ferrier
Green: Richard Kou
Junior: Courtney Church

Sparring

Seniors Adult Male: Phil Webb
Seniors Adult Female: Fran Marshall
Seniors SMall: Vaughan Webb
Green Male: Alek Bojovic
Green Small: Uros Bojovic
Junior Grade Kids: Courtney Church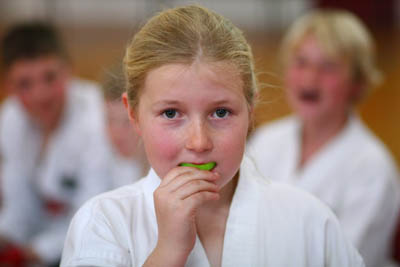 ---
---
---
Master Series Seminars in January 09
---
Counties Manukau Sports Awards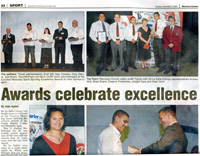 ---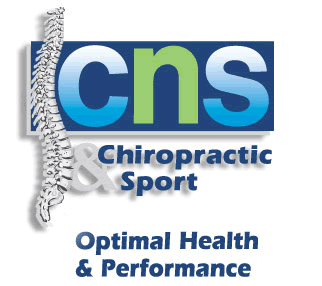 Injured or in need of a body tune up? Paul M Papakura has CNS vouchers available for our members to use. CNS is a Chiropractor with a Sports emphasis and they are based in Takanini. Apply directly to Master McPhail.
Photos of the 2007 End of Year training Session.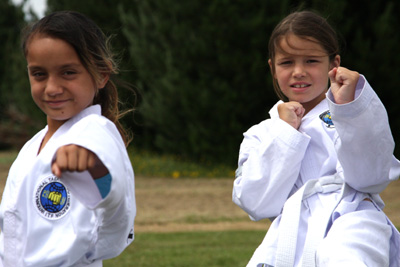 Download the Latest Newsletter
Pre-Season trainings:
We are starting back our training in 2008 with some "Pre-Season Training Trainings". These will be reasonable casual - "get back into it" type sessions. All members from both kids and normal classes are welcome.
Mon & Wed, 6-7 pm starting Monday 14 January 2008.
Congratulations to Melissa Timperley for winning the Best Female Black Belt trophy at the EPSON Under 18 Finals for 2007. This is the 4th time Melissa has won this title!

See photos and full results on the ITFNZ website


Melissa when she started - white belt
---
Alisa Parker from Paul M Taekwon-Do Papakura is a finalist (For Junior Sportswoman) in the Samoa Sports Association (NZ) Awards 15th December 2007. Good luck Alisa!
---
See photos of our members at the PeeWee tournament here
Extra sessions - Papakura members
Master McPhail will be running some extra training sessions to be held at Papakura Normal School:
Sunday 28th October, 10.30am - 12 pm (grading practice)
Sunday 28th October, 10.30am - 12 pm (grading practice)
Sunday 16th December, 10.30am - 12 pm (End of year combined training and group photo..incl kids class)

---
End of Year / Start back dates
Last training for 2007 - Wednesday 19th December (Master Van de Mortel Seminar)
(Discounted for Paul M Papakura members)
First training for 2008 - Wednesday 30th January.
---
Master Van de Mortel Seminar Wednesday 19th December 2007. Register here.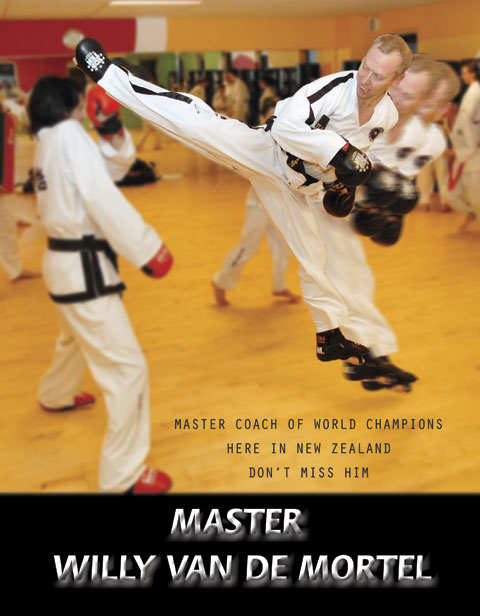 Melissa Timperly features on popular teen website here
---
CONGRATULATIONS...
to the Papakura members who were selected to represent New Zealand at the ITF World Champs in canada May 2007:
Lizzie Faafili
Ethan Parker
Alisa Parker
Paige Moki
Melissa Timperley
Bradley Wickman
---
At the end of 2006 we conducted a small survey of the Papakura members. Some interesting results:
The thing "most" people voted for as the thing they enjoy most in Taekwon-Do was...FREE SPARRING (closely followed by Patterns & Tournaments)
And the worst...58% percent of the votes were for THEORY.
---
Success at the Under 18 Finals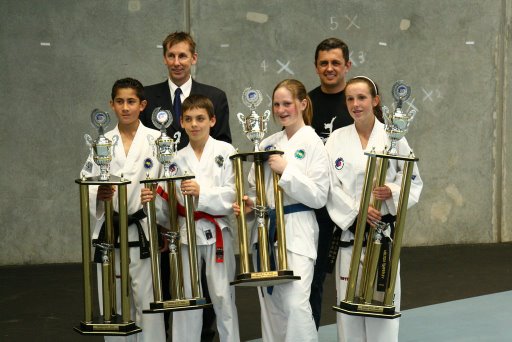 Congratulations to Melissa and Ethan for winning the Grand Champion Trophies..both for the third time! See photos and results here.
---

It is farewell Mr Evan Impson who moved with his family to the Gold Coast, Australia in August 2006. Mr Impson has been a long serving member of the Papakura Branch, the Assistant Instructor for many years and Head Instructor for the past 12 months. We wish him luck in Aussie and look forward to seeing him back..perhaps in a year or two as planned.
---
A huge congratulations to Melissa, Alisa and Bradley who did so well at the ITF Junior World Champs in Honduras. The team brought home a swag of medals - See results here
.
---
Master Willie Lim conducted a New Zealand Seminar on Sunday 22nd January 2006,
1.00pm - 4.00pm at the Papakura Branch, Papakura Normal School, Walters Road, Papakura.
Master Lim was a pioneer of Taekwon-Do in New Zealand. He appeared in the Auckland Star on the 16th of May 1970 doing a flying high kick and then after had a new influx of people joining his club at the Auckland Judo Academy. He later settled in Hamilton and was the head of United Martial Arts. Master Lim currently lives in the United States and conducts seminars throughout America and the UK.
Master Lim resurrects interest in the traditional patterns by sharing with you the classical techniques as intended by the original masters. Although blocks, kicks, and punches are an important aspect of the art, Master Lim interprets forms as a collection of nerve strikes, locks, releases, and counters.

Master Paul McPhail
Mr Grant Eccles
Mr Evan Impson
Mr Richard Iotua
Mr Kris Herbison
Ms Thu Thach
Devon Pittman
Chris Davidson
Sonya Robinson
Breon Gravatt
Melissa Timperley
Deborah Olesen

Kim Nielsen
Nicolas McFarlan
Peter Maifea
Lizy Fa'afili
Cherrilee Owen
Terry Edwards
John Matsuoka
Matthew Breen
Rachel McBride
Carolyn Faithfull
Paul Meyrick
Eddie Sides
Brent Parker

Mr Steve Pellow
Mr Mark Banicevich
Mr Ian Campbell
Mr Steve Morris
Mr Francis Fong
Daniel Harris
Anthony Erceg
Joseph Coffey
Shane Pahi
Nicholas James
Daniel McMillan
Dejan Kuzmic




Mary Jane Riddle
Debbie Hart
Dylan Wilson
Ramonde Hema
Sean Lukken
Tui Makave
Donnamaree Edwards
Sela Loveday
Stephen Murray
Bernice Ng
Brendan Doogan
Narin Sem

---
Newpaper article - Manukau Courier, December 2004 [click to enlarge]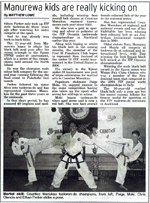 ---
Congratulations to Paige, Ethan and Chris for taking out the BIG TROPHIES at the 2004 EPSON Under 18 Series Final.

Click the image (left) to enarge, and see full results and photos here.
---
Master Paul McPhail was recognised at the 2004 Counties Manukau Sporting Excellence awards with a "Contribution to Sport" award. See other awards here.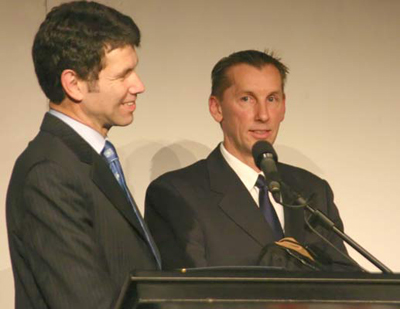 ---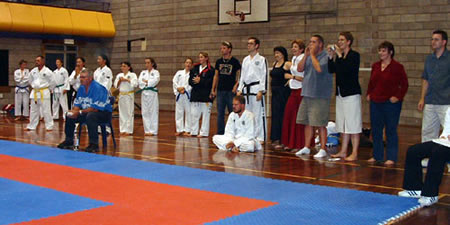 Congratulations to everyone that competed at the Inter Club Tournament on Monday 8th March 2004. It was VERY close and everyone did well. See photos and results on the ITFNZ Website
---
CONGRATULATIONS TO ETHAN AND MELISSA for winning the best male and belt female coloured belts for 2003!
COLOURED BELT MALE: Ethan Parker (Papakura)
COLOURED BELT FEMALE: Melissa Timperley (Papakura)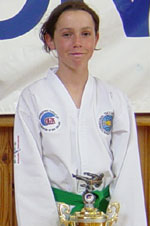 ---
Congratulations to Mr Dan Jackson for being a finalist in the 2003 Counties Manukau Sports Excellence Awards - as Coach of the Year. The CM Team are also finalists as Team of the Year.
---
ITFNZ takes awards at Counties Manukau Sporting Excellence Awards 2002 Papakura Club and Mr Paul McPhail honoured.
See Latest Newspaper Clipping: 2003 Regionals (Papakura Courier)
Old Newspaper Clippings: Papakura Couirer | Manukau Courier1 | Manukau Courier2 | Mokis1 | Toni